This land has deep meaning for me, as a place where with family and friends I have enjoyed the natural beauty of Hawai`i for the last 25 years, and as the source of and inspiration for my daughter's name.  I have been involved with trash cleanup and LFA testing at this site, and have joined the below effort:
Since 2009, a partnership of individuals and local organizations has coalesced to maintain and protect the properties on which Wai`ele Village once existed before European contact.  The properties were placed on the County of Hawai`i's Public Access, Open Space and Natural Resources Preservation Commission (PONC) in 2009, and, as of 2019 they have climbed to position 9 on the priority list for purchase.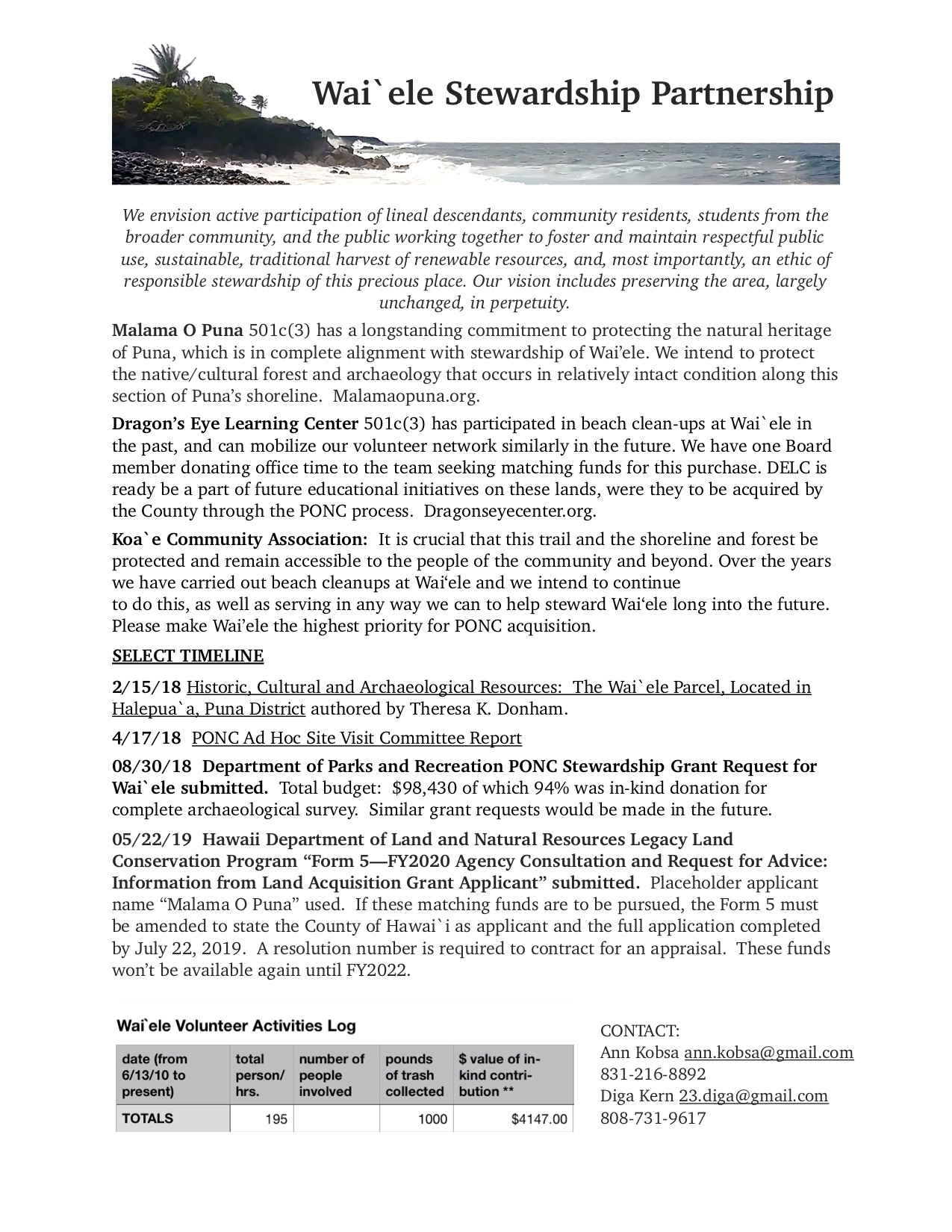 COMMUNITY REQUEST FOR  COUNCIL RESOLUTION 
TO PURCHASE WAI`ELE PROPERTIES WITH PONC FUNDS
SUMMARY
March 2, 2019
Submitted by:  Ann Kobsa and Diga Kern
Submitted to:  Ashley Kierkiewitz
QUICK FACTS:
Size:  157.76 ac.
Location:  Govt. Beach Rd., makai side, 1/4 mile north of Papaya Farms Rd. junction
Position on PONC priority list:  9
List price:  $2.5 million
"Residents of Hawaii County cannot influence the loss of native forest and cultural landscapes to Pele, nor can we block development of land dedicated for such.  However, the subject Wai`ele properties present to PONC and the County an opportunity to protect a significant piece of the remaining habitat of the original inhabitants of the land.  The 157.76 ac of Wai`ele would in reality be added to the 210.5 ac of coastal Kahuwai land and the 695.5 ac of this section of the Nanawale Forst Reserve, resulting in about 1075 ac of land known to be extensively used for living, growing and resource gathering being preserved.  Neither the State nor Kamehameha Schools are expected to clear these lands, the latter using it as a cultural  education site.  The Wai`ele portion is a key piece.  The property qualifies highly in the PONC criteria for selection.  Its use by the public is likely to be non-consumptive.  Both Malama O Puna and Koa`e Community Association have extolled the site and offered to assist in its management, and the landowner expressed a desire to sell to the County during the site visit.  We have a real opportunity to acquire the nominated site and to add to the protection and appreciation of Hawaii County's cultural and natural heritage."  — Commissioner Rich Warshauer, May 11, 2018
The Wai`ele purchase would protect over 2000 feet of shoreline, which together with Bishop Estates' Kahuwai property, would comprise over a mile of undeveloped, pristine coastline.
IN-KIND VOLUNTEER LABOR
From 1/1/17 to the present, 90 person/hrs. of volunteer work have been contributed to the Wai`ele properties, by a total of ten community members.  These hours have included over 50 hrs. of professional archaeological assessment, cleanup of almost 500 lbs. of trash, and several rounds of Little Fire Ant testing.
NONPROFIT PARTNERSHIP
The Koa'e Community Association, Malama O Puna 501c(3), and Dragon's Eye Learning Center 501c(3) are prepared to work together co-ordinating and managing volunteer and funded maintenance work on this property.  Kamehameha Schools/Bishop Estate will be contacted and worked with to develop a mutually-satisfying conservation plan for the shared border area.  Hawaii Wildlife Fund volunteer network will be tapped for future beach cleanups.  Personnel from these organizations are prepared to donate assistance in the drafting of the purchase resolution, and in seeking private matching funds for the purchase.
If you would like to help in this effort, please don't hesitate to contact me.